Guess what book released today!? The third - and final - installment in The Comrades of Honor series by Alicia A. Willis: Rising to the Challenge: A Tale of Perseverance and Unconditional Love!
I had the privilege of receiving an early copy of this book as a member of Alicia's Beta reading team for it, where I helped by looking for grammatical errors or inconsistencies. It was a wonderful experience, and I was so thankful to be on the team and get to help Alicia out!
And, I can guarantee...it's a good book, as a stand-alone, or having read the previous two books, To Birmingham Castle and In Search of Adventure (though I would recommend doing so).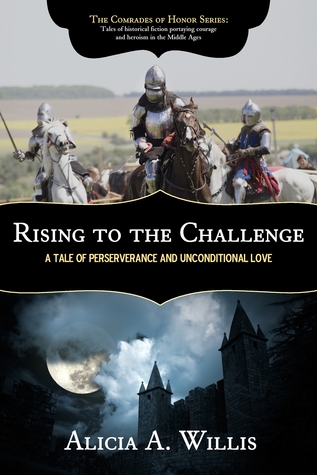 New difficulties arise for Sir Kenneth Dale in the exciting final installment in The Comrades of Honor Series. As a favorite of the Earl of Birmingham, his life appears tranquil – until the both beautiful Lady Clarissa and a headstrong orphan named Brion arrive in the castle. It is not long before Sir Kenneth finds himself not only in love, but also the master of the most difficult squire Birmingham has ever harbored.

Brion de Lantenac is nothing short of rebellious. Hatred for Sir Kenneth's strict rules vents itself in constant disobedience, triggering continual clashes between himself and his new lord. But there is a reason behind his self-centered character. The murder of his family has caused heartbreak he may never recover from. Will he ever reveal his true identity to Sir Kenneth? And what about Guthrie, the man who sullied his father's shire with treacherous hands and now seeks his demise?

Caught between a hopeless romance, a rebellious squire, and the enemies on all sides, Sir Kenneth finds himself challenged. Amidst battles, heartache, and dark mystery, he must somehow rise to meet the difficulties of his life with honor. Will he ever win his squire's heart? Will he and Clarissa be forever separated?

Join Sir Kenneth, Brion, and all the comrades of honor in a tale of perseverance, chivalry, and unconditional love. Treachery abounds and evil seems insurmountable. Will rising to the challenge preserve honor and win the day?
My original review (with a few updates):
Rising to the Challenge: A Tale of Perseverance and Unconditional Love
My Rating: 4 Stars
Best for ages: 12/13 and up (for violence, sword fights, injuries, torture, etc.)

Rising to the Challenge was not what I was expecting - in a good way. Set in Medieval England with the ever-present fight of good versus evil, it was exciting and had many twists and turns that I was never expecting and I certainly didn't see coming! The plot twists were some of my favorite parts of the book. The adventure was gripping and heart-racing. The characters were engaging. This was definitely the best book of The Comrades of Honor series by far.

I enjoyed Brion's character the most. He was certainly a lot of fun, and had a great character arc. I liked the fact that he wasn't rebellious and hated Sir Kenneth just out of spite or pure stubbornness - he was truly hurting and his family had just been murdered. Fantastic character! Brion de Lantenac might actually be my favorite character in the whole series! :) Okay, scratch that - he totally is!

Other characters such as Victor and Sir Darryl - who we're just introduced to - made the story even more fun. I really liked Victor and his friendship with Brion - from enemies to allies. Sir Darryl was a great rival and I really enjoyed the twist in the end with him and Sir Kenneth!

A fantastic book with a wonderful plot, a fun cast of characters, and a gripping, exciting, and well-thought-out storyline. Job well-done, Alicia!

I'm looking forward to seeing what books Alicia Willis will be writing now that The Comrades of Honor series has come to an exciting close! Recommended for those who enjoy historical adventure fiction.
Where to pick up the book:
Or you can contact Alicia through one of her websites (listed below) and I'm sure she'd be happy to sign a copy for you!
Also, check out her other novels! I've actually read all of them...
Congratulations to Alicia on her newest book's release!