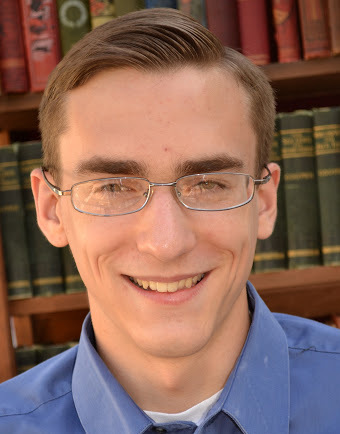 John J. Horn
Who is John J. Horn, you may ask? John J. Horn happens to be my all-time favorite author. How do I know of him? I came across his adventure novel, The Boy Colonel: A Soldier Without a Name, while flipping through a book catalog. The cover and description drew me in. I ordered a copy - and, I have to say, that was one of the best decisions of my book-life I have ever made. :) Ever since then, I have been captivated by his gritty historical adventure stories. They amaze me, inspire me, touch me - and, I absolutely adore and recommend them. Pick up one of his books. You will not be sorry. I honestly am unsure of how to describe how much I love the Men of Grit series. Simply put, this author and his books are amazing. Any new novels of his are immediately put on To-Read list on GoodReads. Now, I could go on and on about how much I love John Horn's novels, but let's get the story rolling here...
John Josiah Horn is a homeschool graduate and a Christian, no exceptions. He grew up on the East Coast and transplanted to sunny South Texas - San Antonio, to be more precise. He works in the retail and publishing industry by day, and pounds on a keyboard by night. He has currently released three of his own novels (which I will tell you about in a minute), and adapted three of the Jonathan Park radio dramas into full length books (with help from Pat Roy).
John Horn grew up reading the adventure novels from great men such as G.A. Henty, R.M. Ballantyne, Jules Verne, James Fenimore Cooper, Charles Dickens, and Robert Louis Stevenson (I can really see some similarities between him and Ballantyne). He also became the sole editor on the blog, Ballantyne the Brave, at sixteen. He posted on Ballantyne the Brave from 2009 until 2012, when, in September of 2012, he released his first two novels through Vision Forum. Yes, not just one, but two novels. Inspiring, wouldn't ya say? He has since then released the third book in the Men of Grit series in October of 2013. I was actually fortunate enough to get a signed copy of the third book from John J. Horn himself.
John J. Horn writes hair-raising, Christ-centered Historical Adventure Fiction set in Victorian Era England (1837 - 1901) - a time brimming with mystery, unexplored territories, burgeoning technologies, Old World fighting tactics, and the ever present need for manly men of honor and courage...
His novels:
Brothers at Arms: Treasure and Treachery in the Amazon
Lawrence and Chester Stoning are twins, but like Jacob and Esau of old they have little else in common. Lawrence is a realist, fascinated by the study of science, mathematics, and history, while Chester longs for knightly adventures of chivalrous times past - hard-fought battles, gold-filled caves, damsels in distress.
When Chester's impetuosity engages the unlikely pair as bodyguards to a Spaniard and his beautiful ward, Pacarina, the twins quickly realize that the 19th century calls for a chivalry of its own. Protecting Pacarina's secret leads all of them into the steaming jungles and dizzying mountains of Peru, a foreboding territory made all the more dangerous by Lawrence and Chester's strivings against each other. Can the twins learn to trust God and work together before it's too late? Or will they fall prey to the mysterious schemes of Pacarina's enemy - an enemy they know nothing about?
The Boy Colonel: A Soldier Without a Name
The year is 1836. A mysterious young English solder known as the "Boy Colonel" commands a crack regiment in the snowy wastes of Siberia. No one knows his history. No one knows his name. The Cossacks want him dead - but are they the only ones? It seems his worst enemy may wear an English uniform.
The Boy Colonel strives to perform his duty, but when that duty becomes mixed he must decided which sovereign is greater - the king of England, or the God of the Bible. Treachery, intimidation, and deceit block his path. His choice of allegiance may mean the difference between life and death. Is he prepared to risk all to protect his loved ones?
Secret of the Lost Settlement: The Duty of Warriors
Colonel Nobody (The Boy Colonel) and the Stoning twins (Brothers at Arms) are back! Outlawed for a crime he did not commit, the "Boy Colonel" must seek pardon by finding witnessed to his supposed crime in the whaling fleet off Greenland's coast. But his plans go awry when his search amidst the fjords and shifting ice-mountains leads him into a hidden valley peopled by descendants of a Roman expedition lost during Nero's reign.
When twins Lawrence and Chester Stoning arrive with news of Queen Victoria's ultimatum, Colonel Nobody must decide whether to stay and protect the colony's persecuted Christians or venture to escape with the proof needed to save his best friend from hanging. Or will he survive the settlement's horrors long enough to do either?
You can check out Mr. Horn's
website
, become a fan of his on
GoodReads
, and read this cool
interview
with Sarah Holman on the blog,
Homeschool Authors
.
Oh! And don't forget to read and review all the amazing books of John's listed above! Vision Forum (his publisher) shut down as of late 2013, though, so his books aren't being printed right now. But let's keep praying he'll get a new publisher soon so many more readers can enjoy his books! (You can also scour the internet in search of copies of his novels, but many of the prices are pretty
ridiculous!)
I hope you enjoyed getting to know more about John J. Horn! Be looking out for more posts on authors and their books. (And each book in the Men of Grit series I will be reviewing soon.)
Now, I have some books to finish reading... :)
Well, (as John J. Horn would say!) until next time...