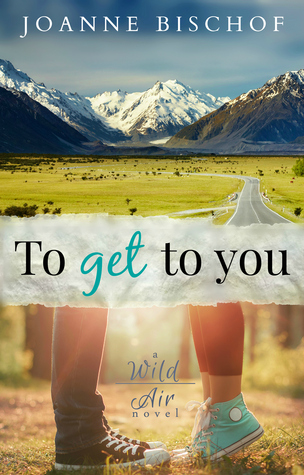 To Get to You
By: Joanna Bischof
Rating: 5 stars
Ages: maybe 13 and up (read aloud), and 15 and up (reading by yourself)
To get to the girl he loves, Riley Kane must head off on a road trip with the father he never knew. Then pray for a miracle.

Most teens would love to have a pro surfer for a dad. Just not Riley. Abandoned as a kid, he hates the sound of the ocean and the man who gave himself to it.

When the eighteen-year-old learns that his best friend is stranded at a New Mexico hospital as her father fights for his life, Riley hits the highway to head east. But when his Jeep breaks down before he even leaves California, he must rely on the one man he despises to get to the girl who needs him the most. And when it comes to the surfer with the Volkswagen van and dog-eared map, a thousand miles may–or may not–be enough to heal the past.

A story of new beginnings and second chances.
To Get to You is all about grace and redemption and second-chances. It's filled with fun moments that will make you grin. It was well done, highly enjoyable, and realistic. The message seeped into the crevasses of the story and was beautiful.
Oh, I loved this book! It was so sweet.
The road-trip, father-son relationship, Hawaii/surfing elements all drew me to this book. Those things seemed like they'd contribute to a really engaging, lovable story. And they did. My guess was correct-a-mundo. ;)
Riley Kane's point of view in itself is engaging too. Joanne never switched to another POV - but she didn't need to. She showed you all of the characters' emotions (other than Riley's), and didn't need their POV to do so.
And Riley was fun. I mean, he was SO completely different than any other hero that I've encountered! Yup, he wears skull shirts sometimes and is trying desperately to make his mohawk grow out faster - but what made him great is that, despite all of his seemingly flawed points, inside he's hurting and he's broken, but he's letting God change that. He's becoming a new person on the inside. He's a work-in-progress (you gotta love him). But aren't we all?
OKAY. Becca. She's really cute. She's homeschooled, and she wears long skirts, and she lives with her family - and loves it. Honestly, I really like the way that she and Riley could be considered opposites, but they fall for each other and are so good for each other. Becca believes in Riley the entire time - no matter what he tells her about himself, she's always open and she accepts him as he truly is. Super sweet.
The romance was kinda adorable. I really love the opening scenes. COME ON! Snowy night, tree lot, Christmas music...Riley grudgingly being a gentleman and helping Becca with the tree? SO CUTE and so well-written. Descriptions were fantastic. And I loved the part where Riley accidentally says something on a message to Becca (I can't reveal what that something is because it's completely fun and I don't want to spoil it for anybody) and then realizes what he just said. <3
Saul? Perfect addition to the road trip - thank you, Joanne, for creating a goofy Mexican character that loves his audio book. He was great.
Descriptions, writing style, characters... Joanne hit a home run. This book is amazing. I loved it. And to top it all off, my mom read it to me and my siblings in one day. All in a day. And, just to warn you, food is mentioned quite frequently. (So don't read this book while fasting. Which is...yeah...what my family and I did. THOSE DESCRIPTIONS! It's hilarious though, because I've never noticed the mention of food so much in a book. However...we survived.)
The whole message was great. What can I say? I love books that have bold messages. And this one was very well written and touching. Relationships are healed, people are changed.... And it's all set in a completely fun location, with fun happenings, great characters, and a great plot.

Overall,

this story will touch you. It's really, really good. And it comes recommended (I hope that was obvious!) ;)
Looking forward to book #2...
Buy To Get to You on Amazon, or on Barnes and Noble.Visit Joanne Bischof at her website, her GoodReads, her blog, or her Twitter.